jetAudio HD Music Player
9.11.4
HD Music Player – Enjoy Music in HD Sound Quality
Do you enjoy listening to music on your phone? Are you looking for an HD music player? If yes, then this app is an ideal choice for you. jetAudio HD Music Player is a cool app that gives you the chance to listen to your favorite tracks in HD sound quality on your Android device. It enables you to apply various sound effects to your songs, making them sound just the way you want them to. You get a 20-band equalizer to fine-tune the audio quality of the tracks too. This music player lets you create playlists and organize your music library as per your preferences. Moreover, since it supports all the major formats, you can play songs in any format on this music player without encountering any difficulty whatsoever.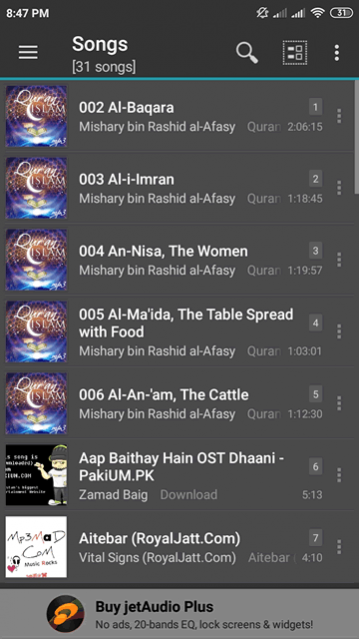 jetAudio HD Music Player has an intuitive user interface that meshes perfectly with its user-friendly layout and design. It makes navigating the different features of this HD music player an easier proposition for everyone. All the songs you have stored on your phone will be instantly uploaded to the music library of the app. If you don't find any of the songs, you can find it by using the Folders option that is offered to you. Once you have selected the song, you can begin playing it by clicking on its title. You can enhance the sound quality of the song by adding sound effects to it. These sound effects can be accessed from the menu that appears by clicking the button located at the top-right corner of the screen.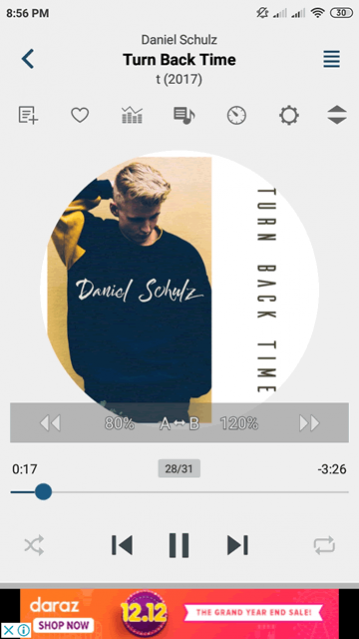 This HD music player offers a 20-bands equalizer to you that comes with various presets. You are given the option of saving custom presets for the equalizer as well. This equalizer is provided to let you decide the tonal quality of the songs. However, do keep in mind that you need to enable the equalizer before using it. Also, the 20-bands equalizer is available only to premium users. You can use a limited version of the equalizer until you have purchased the premium version of this music player. When playing a song, you can access the equalizer as well as the sound effects and other premium features. You can do this by clicking the icon on the top bar of the music player right next to the 'favorite' icon.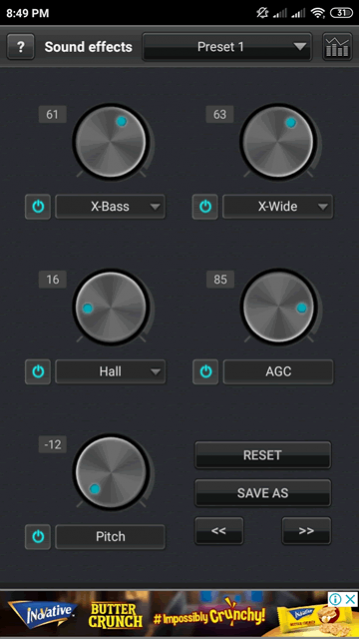 jetAudio HD Music Player enables you to organize your music library according to albums, genre, songs, and artists. Also, you can sort the songs in many different ways too. Creating playlists from the available songs is very easy too. You just need to click the 'Add' icon located at the top bar of the music player while playing a song to add it to a new or an existing playlist. This HD music player lets you search for songs you are playing on YouTube too. Also, you can find lyrics of the songs you are playing as well. However, this feature is available only for premium users.
Features:
Intuitive user interface
User-friendly design and layout
Lots of sound effects to choose from
Play music in multiple formats
20-bands equalizer for fine-tuning your music
Various customization options available
Create playlists from the music you have on your device
Search folders to look for available music files
Look for songs on YouTube
Find the lyrics of the songs you are playing
Organize your music library to find music easily
Multiple options for sorting your music library
Conclusion:
jetAudio HD Music Player is an app that will primarily appeal to music enthusiasts who want to enjoy music in HD sound quality. It has amazing sound effects and customization options to offer that can enhance your music-listening experience manifolds. It is an HD music player and you will have loads of fun playing your favorite music in multiple formats.
---
Add a review
Tell us your experience with
jetAudio HD Music Player
9.11.4
RELATED PROGRAMS
Our Recommendations
---
---
---
---